The staple of hippy trippy 70s, rainbows are back albeit with a contemporary twist
About two years ago I saw a young wan in a rainbow puffa jacket. With rainbow pants. She looked amazing! Only the very young and the very beautiful can get away with a rainbow-on-rainbow ensemble, but where fashion leads, interiors follows after.
Her outfit made me realise that it was only a matter of time before rainbows filtered down into the home. So how was that going to work? Rainbows are infinitely beautiful and powerfully symbolic, but easily overdone. The trick, I think, is not to take them too literally. Rainbows are most effective in small doses or reinterpreted in a contemporary way.
Rainbows have been an emblem of hope since the world began, and of Gay Pride since 1978 when the American artist Gilbert Baker designed the rainbow flag, but they're tricky to use in the home. Earlier in the same decade, rainbows became a staple of trippy hippy décor. People plastered them over walls, floors and furniture so indiscriminately that the harmless rainbow became synonymous with bad taste. That reputation is a bit unfair.
Around 1972, the Australian Golden Homes magazine featured interiors that used rainbows in interesting and attractive ways: painted in a pastel arc over a hemispherical mirror, or on the floorboards of a child's bedroom. The designs that worked best tended to play with colour, disrupting the sequence or deconstructing the form. In the same way contemporary rainbow décor takes the idea of a rainbow, then breaks it down in a way that makes a room look interesting and rainbow-esque and not (god forbid) like a crèche.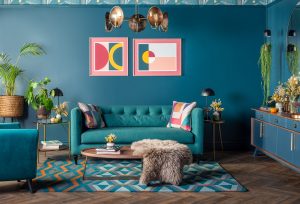 Now, rainbows are upon us once again. Here's what the WGSN x eporta Interiors Trend Report (2019/20) has to say about the trend that they call Rainbow Kaleidoscope: "What we see emerging now is an iridescent technicolour prism of light dispersed through glass and acrylic. No colour has been left behind… the fastest growing colours are the brightest, with the demand for orange growing up 195pc in the last six months, closely followed by coral and violet."
Sonya Winner's collection of multi-coloured rugs interprets this in a range of prismatic designs (from €949). The Bubbles rug uses the rainbow colours, assembled in interlocking circles of different sizes, with the colours blending where the circles intersect. The Kaleidoscope rug (from €1,319 for a 1.1 x 1.7 metre rug) is rectangular, but with the rainbow spectrum layered in angular fragments. They are spectacular, but very dominant. Pick up one or two of the colours in upholstery or accessories, but allow the surrounding ambience to be soothing and calm.
When Yvonne Mulligan, interior designer, first heard that rainbows were back in town, her first reaction was to run very fast in the opposite direction. "At first, I took it in the literal sense of 1970s rainbows and I thought 'ah no!'," she says. "But then I realised that a contemporary rainbow can be all about tonal progression, that gradual increase of colour that you get from a rainbow. It's not an actual rainbow, but it goes strong and fades in the same way and it creates an aesthetic that doesn't look garish or gimmicky."
Mulligan is the founder of Nine Yards Design, where she works with Deirdre Fitzgerald. They're known for their love of colour, but promise faithfully to deliver a design solution based on their client's own particular taste and style. There was just this one time…
"A lovely single lady bought a house in Dublin and she got very excited about colour. She wanted it to be finished when she got back from holiday and she kept telling me that she didn't mind what I did, so long as it wasn't pink." On this matter, the client put her foot down. "The only colour that I absolutely hate is pink," she said. The client left for a three-week break, little knowing what was in store for her.
As soon as she was gone, Mulligan and Fitzgerald put their heads together. "I don't think that she really hates pink at all," they said to each other. The reason being, all the samples that their client had liked contained subtle elements of pink. Like it or not, pink was beginning to creep into the design. The sofa was navy, offset by multi-coloured cushions in teal, white and a deep cerise pink, and the rug had a seaweed-like pattern that incorporated subtle tones of pink, but it was the kitchen back-splash that caused the most anguish. "The kitchen was a pale blue with a speckled bench and everything was telling me to go for the pink wall tile," Mulligan says. "So we went for it." A six-metre strip of pink tiling was installed (the tiles come from Waterhouse Tiles and cost €48.50 per metre).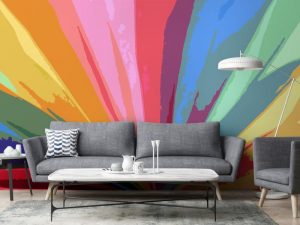 The client came home from holiday and fell in love with her pink-and-blue kitchen, which is now her favourite room in the house. "Because there were blues in the room, it allowed us to work down the colour spectrum," Mulligan explains. "All the colours had the same chromatic scale with that gradient colour coming up from the rainbow, from dark to light and fading back again."
For her, rainbows are less about a specific range of colours than a way of thinking about how colours transition into each other.
That said, actual rainbows have their place. "If you want to use rainbows in a literal way, keep it small and keep it neon," says Mulligan. "Neon gets away with everything and a rainbow neon light can look savagely cool."
Then, quit while you're up. Filling the room with tempting rainbow accessories will dilute the impact of the neon light. "Don't overload the senses and don't be picking up loads of things and hoping they will match! Get one cool thing and build the room around it. One feature will create an impression; millions of features make it featureless."
I've yet to find the perfect neon rainbow light. Oliver Bonas has a table-top version (25.5cm high) in the traditional spectrum and mounted on a concrete base for €66. Neon Beach sell wall-mounted monochrome rainbows (€132 for a 50cm wide light). And Wish have quite a few options for very low prices, but the only guarantee is that, by the time it arrives, you'll have forgotten that you ordered it.
Nine Yards Design is open for consultation as well as larger projects. A virtual consultation costs €250 and an on-site consultation with follow-up costs €350 (both plus vat).
Feature from the Irish Independent HERE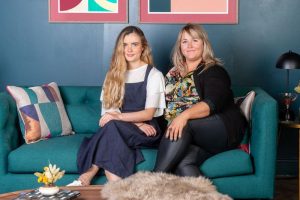 Yvonne Mulligan and Deirdre Fitzgerald of Nine Yards Design