"We just said: 'Look, let's be like marmite.' You're either going to love it or hate it. We just wanted to do something that was different," exclaims Chiara Egan of Nine Yards Design. A bold statement, but one that perfectly describes this dining room. With its floral wallpaper, striking, pink dining table and extravagant furnishings – there's no doubt about it – this dining room certainly makes a statement.
Taking inspiration from the pink and yellow spring tones of her wallpaper, Chiara decided to do something she would never advise her clients to do. "We chose our colour by its name," she says laughing. "We fell upon Colourtrend's Blooming Perfect 0062 (available in all Colourtrend stores and stockists) in Ceramic Matt Finish and we just had to use it."
Whether its gut feeling, a secret intuition, or just sheer luck, the vibrant tones of Blooming Perfect 0062 were, as Chiara described, 'blooming perfect!' The vivid hues of the walls certainly demand attention. However, your eye can't help but gravitate to the upcycled dresser coated in the punchy, vibrant tones and Satin Finish of Colourtrend's Sin City 0816 (available in all Colourtrend stores and stockists).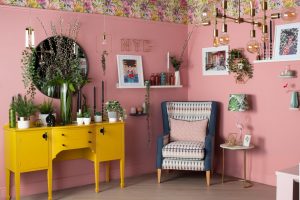 Yes, the mustard hues provide a dominant, striking contrast to the pink walls but not in a way that is jarring. On the contrary, it finds a common ground that is both daring yet complementary – as if they are merely a duo of opposites that bring out the best in each other.
"We really wanted to be able to upcycle this piece of furniture and bring in this accent and pop of colour to ensure everything wasn't pink. If we stuck with just pink tones, we would have ended up with a very monochromatic colour scheme," Chiara explains. "We always like to look back on our work and say that it has a nice pop of colour. Using Colourtrend's Sin City 0816 really allowed us to do that."
It's difficult to describe this dining room as anything other than a colourful feast. A buffet of small, pink flamingo statues, Aztec printed benches, and stunning gold cutlery and candles. Colourtrend's Pinkathon 0061 (available in all Colourtrend stores and stockists) in Satin Finish lovingly coats the dining table and chairs, while small trinkets and accessories, such as a white, ceramic frog, hide along the wall. Blink and you might miss it, but have no doubt that you will be back again to feast your eyes on the many delights this room has to offer.
And with such a striking room, it's unsurprising what Chiara's favourite interior design trend is at the moment. "I'm really loving that people are using colour again," Chiara says, in earnest. "People have become a little bit wilder. They're using a lot of greens, lovely blues and navy tones. We were brave using this pink, and it just shows that people are open to this experience. For a long time, we stayed within our safe zones, but this is no longer happening – and I love it!" – Originally featured on Colour Trend HERE